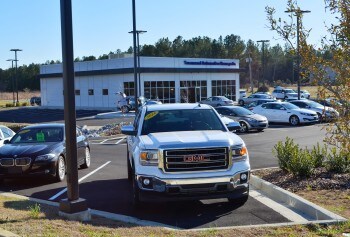 Townsend Automotive Group is proud to announce that 2014 marks its 42nd year serving Tuscaloosa,  West & Central Alabama. The company is the exclusive local dealer for Ford, BMW, Nissan and Honda. Also the group owns Townsend Global Imports and Townsend Automotive Demopolis, specializing in quality preowned vehicles. 
The Townsend Auto Group legacy began 42 years ago with the late Charles Townsend, native of Memphis, TN.  Mr. Townsend started selling cars in his hometown in the early 1950's. Later he and his family moved to Alabama where he managed a Ford dealership in Birmingham. In 1972 he purchased the local Ford dealership. Originally located in downtown Tuscaloosa, the dealership relocated to Skyland Blvd in 1974. In that same year Mr. Townsend acquired Townsend Honda. Townsend Ford later moved to its current location on McFarland Blvd in 2005.
In 1991,  the group acquired the BMW Nissan Dealership located on Greensboro Ave. Nissan moved to it's new location on Skyland Blvd in 2012. BMW was renovated in 2012 and remains in it's present location today. 
On July 27,  2013, Charles Townsend, the man who built a legacy by selling the joy of the open road, passed away. His success in the car business allowed him to build an automotive empire, but it also provided something he could share and pass down to those he loved the most.
Today, his son Tommy Townsend is President of the group. Tommy plays an active role in day to day operations of all dealerships. Tommy's sons, Joe, Ty and Brody each play a pivotal part in each dealership. 
Townsend Auto Group contributes its success to its dedication and commitment to customer satisfaction and the continuous leadership it epitomizes in the community. In addition, the Townsend family, Townsend Auto Group and its employees are passionate about serving its community beyond selling and servicing vehicles. Townsend gives generously to the Tuscaloosa community financially and through volunteerism. From the United Way of West Alabama to the Turning Point Domestic Violence Shelter and Toys For Tots, the Townsend family has supported numerous organizations over its many years in business. 
Please visit us today and see our excellent selection of new and preowned cars, trucks and suvs. With a low pressure, family oriented atmosphere, you won't find a better car buying experience. Come be part of the family today!